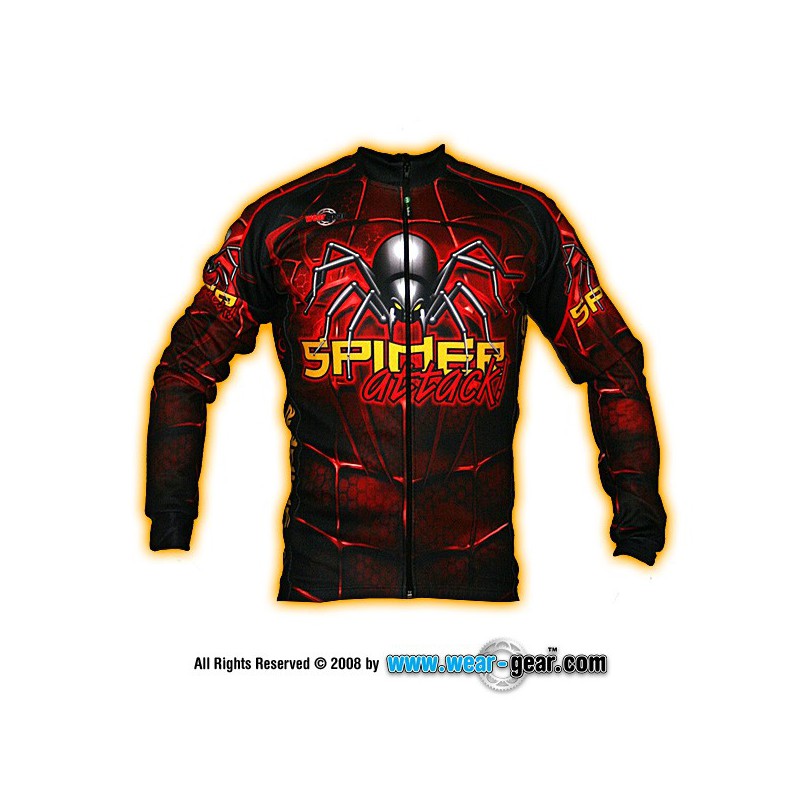  
Spider Attack! long sleeve jersey
TomTex Warm material
its cut, confirmed by long-term tests, guarantees high comfort of use and free movement regardless of how intensively you train or how long will the trip that you are planning be
raglan sleeves assure maximum comfort
the sleeves, finished by elastic cuffs perfectly fitting to the body do not allow the wind to get to the inside of the sleeve
the extended back and the elastic part around the waist prevent turning up of the sweatshirt during the ride
amazing breathability of the material, transporting the moist away from the body, preserving its natural temperature and assuring comfort regardless of conditions
unzipped at the front with a zipper, facilitating putting the sweatshirt on and taking it off and providing immediate ventilation whenever you want it
permanent imprint, which is strengthened during a special process in the fibres of the fabric, will keep its color and quality forever
three capacious rear pocket will hold valuable belongings such as a wallet, a mobile phone or handy tools

* Given functional advantages assume appropriate fitting to the body therefore before choosing the right size it is necessary to get acquainted with the measurements attached to the description of the outfit.
Use:
during the spring/autumn season while the temperature is above about 0 °C (32 °F)
you can wear it in combination with Wear-Gear™ spring-autumn jacket, Wear-Gear™ winter jacket and/or Wear-Gear™ underwear practically during the whole year

* Since everybody senses the temperature individually, given data should be considered as approximate. It is necessary to adapt clothes to one's preferences and actual weather conditions.
You might also like